With fast fashion being responsible for 1.2 billion tonnes of carbon emissions annually, eco friendly clothing seems like an obvious choice.
But with a number of fashion companies being able to mass produce and sell their clothes cheaply, it's often difficult for sustainable clothing brands to enter the market.
Fortunately, we've tracked down 24 eco friendly clothing brands who are available to customers based in the UK.
1. RAPANUI
Rapanui are a great example of how ethical and eco friendly clothings brands can thrive. They apply a circular economy model to their clothing business with all of their products designed to return to Rapanui once worn out where they then create new products.
Their clothing range is made to last for years and are only created when a new order is processed. This means they don't create anything unnecessarily therefore reducing waste.
Their range of clothing is vast and includes anything from shirts, jackets and underwear for both men and women. They also have an option to create your own custom design which are printed using natural water-based inks.
Choose Rapanui because:
They only use natural materials for their clothes
They make new products from the ones sent back to them
Their products are made in real time in a factory that's powered by renewable energy
All packaging is plastic free
2. THOUGHT CLOTHING
Thought have been creating sustainable and ethical clothing for over 25 years and have built up an extensive catalogue of eco friendly garments for both men and women.
All of their clothing is made from sustainable fabrics such as organic cotton, bamboo and hemp and they pride themselves on creating clothing that is not only kind to the planet but is kind to your skin too.
We particularly like this little tagline "Because while looking good feels great, protecting the planet feels even better."
Choose Thought Clothing because:
All of their clothing is sustainably sourced using natural fabrics
Their quality and variety of clothing is unmatched
They only use zero plastic packaging
95% of their collection is PETA approved
3. PEOPLE TREE
People Tree have been supplying ethically sourced clothing for three decades with every product being made to the best ethical and environmental standards possible.
They were awarded the World Fair Trade Organisation product label and in doing so became the first fashion company to receive such an award.
As well as using ethical practices such as covering fair wages and creating good working conditions, their clothing is also to be raved about. Their range includes anything from socks and underwear to dresses. The most common sizes in stock range from UK size 6 to size 18.
Choose People Tree because:
They've demonstrated that they will always go the extra mile when they can
Their clothing range has everything a woman needs
They have a great vegan selection available
4. ORGANIC BASICS
Organic Basics put sustainability at the heart of everything they do and they refuse to do it any other way. This means that the fabrics used for their clothing are strictly organic and the factories they partner with must adhere to their ethics too.
Rather than taking a fast fashion approach, Organic Basics' number one goal is to make clothing that lasts. While this essentially means less revenue for them as a company, it proves they actually care.
They have a range of different sustainable clothing available for both men and women including everything from hats, sweaters, hoodies and leggings.
Choose Organic Basics because:
They truly care about sustainable clothing
There's a variety of different, long-lasting clothing available to both men and women
They're refreshingly transparent about everything they do
Free CO2 neutral shipping is available
5. BAM BAMBOO CLOTHING
As we're well aware, bamboo is one of the most sustainably grown plants on Earth and its use for clothing is amazing. Utlilising all of bamboo's natural properties, BAM's product range are comfortable, moisture wicking and temperature controlling.
And all these benefits are post along to every single one of their items including their tops, bottoms and socks.
Choose BAM because:
Their bamboo is grown sustainably and ethically
Bamboo clothing is high quality and durable meaning it'll last you a long time
They've set goals for zero waste to landfill, zero pollution and zero wasted water by 2030
6. KIND CLOTHING
Kind Clothing are another great eco friendly clothing brand based in the UK who you should definitely check out.
All of their clothes are GOTS certified and the facilities where their clothing is made are Fair Wear Foundation approved. This means every worker has a legally binding contract that gives them access to a fair wage, safe working conditions, and ensures no child labour is ever used.
They're also PETA approved and only use vegan ink for their printing.
Their product range is entirely unisex and contains items of clothing such as ethical hoodies, t-shirts and shorts.
Choose Kind Clothing because:
They plant a tree for every order
They have all the necessary credentials to prove their sustainability claims
Some of their products make use of recycled polyester which would have otherwise gone to landfill
Their products have a great size range and can be considered as plus size ethical clothing
7. VEGAN OUTFITTERS
Vegan Outfitters are a completely cruelty-free and vegan fashion brand who create quirky items that are affordable too.
Their clothing range are created in a WRAP Gold certified facility meaning you can be comfortable knowing that the workers are paid a fair wage in an ethical and secure environment.
Their manufacturing facility's sewing and cutting floor is also powered entirely by solar energy.
Choose Vegan Outfitters because:
Their designs provoke important conversations
They're one of the most affordable ethical clothing companies
All items come in plastic-free packaging
8. BAUKJEN
Baukjen are a UK-based ethical clothing manufacturer who preach sustainability by following a circular economy model.
While their items are designed with longevity in mind, once they're ready to retire, Baukjen encourage customers to return the fabrics so they can repurpose and reuse them again as something else.
They also offer the chance to rent wardrobes which is infinitely better for the planet than buying new – especially if you only plan to wear the outfit a couple of times.
Their range is suitable for women of all sizes as they cater to size 6 – size 18 making them a great plus size ethical clothing company.
Choose Baukjen because:
They follow the circular economy resulting in zero waste
You have the option to rent outfits instead of purchasing them outright
They're committed to ethical and sustainable production
They've reduced their water consumption by 89% over the last year – this shows a willingness to improve
They have a great range of outfits available
9. HEIKO CLOTHING
Heiko Clothing have dedicated themselves to being a fast fashion alternative while having a minimal impact on the environment through their own practices.
Their range of clothes includes organic cotton t-shirts and sweatshirts that are designed to be unisex. While the range isn't not too expansive, if you're looking for items like that, then Heiko are perfect.
Choose Heiko because:
They use 100% organic cotton as well as recycled raw materials
All of their items are unisex
They donate 50p from every sale to different charities every month
Their products are affordable
10. PANGAIA
Pangaia are one of the most innovative fashion brands when it comes to sustainability. Focusing on breakthrough textile technology, Pangaia have been able to create all sorts of items from recycled fabrics and materials such as plastic bottles.
The natural botanical dye found in their clothing is made from natural sources and combined with anti-bacterial peppermint which ensures your clothes stay fresher for longer.
Their sizes include anything between XXS to XXL and their clothing comes in any form you can think of.
While Pangaia are based in the US, they do offer free shipping the the UK if your order is over a certain value (around £250) so if you're looking to replace a lot of worn out clothing they might be ideal.
Choose Pangaia because:
They make use of materials that would otherwise go to landfill
Their clothes are stronger and more durable
They have an excellent range of different items to choose from
11. GOOSE STUDIOS
Goose Studio's motto is to buy less, buy better. We love them because they actively discourage you from buying their clothing unless you absolutely need to – this is the key to sustainability.
If you are in need of a few new t-shirts however, then we'd thoroughly recommend giving them a try. Their range of clothing is stylish and in a world where affordable eco friendly clothing is at a bare minimum, Goose Studios really stand out.
The clothes are all made from organic fabrics and are PETA approved.
Choose Goose Studios because:
They understand what sustainability is all about
Their workers are paid a fair wage
They've protected over 60,000 trees from being cut down
12. ABSOLUTELY BEAR
Absolutely Bear are a men's ethical clothing brand who focus on providing sustainable items made out of organic cotton including t-shirts, hoodies and shirts. Some of their items also include recycled polyester which would otherwise have gone to landfill.
Their clothing range is incredibly stylish and you'd be forgiven for mistaking their items for some of the more renowned premium fashion brands. Sizes are inclusive and range from Small to XXL.
Choose Absolutely Bear because:
Who doesn't want to look good while having minimal impact on the planet?
Their clothes are made in association with the Fair Wear Foundation
They donate 1% of their annual earnings to non-profits
13. BOODY
Boody have perfected sustainable essentials by offering a range of items including underwear, socks and loungewear for both men and women all while following the most sustainable practices.
Like some others on this list, they use organic bamboo as their fabric choice with their designs being comfortable yet vibrant.
We particularly like how transparent they are as a company, showing the impact their clothing has on the planet.
Choose Boody because:
They have an extensive range that covers men, women and babies
In the last 5 years their sustainable practices has saved half a billion litres of drinking water going to waste
They donate to various charities including Breast Cancer UK
14. ZERO TEE LONDON
As you can probably guess from their name, Zero Tee are a zero-waste clothing company that sell outrageously cool t-shirts for men and are based in the UK.
They have a variety of interesting designs that are all made from organic cotton and are packaged plastic-free. T-shirts/sweatshirts are inclusive and range in size from XS to XXL.
They also use the circular economy model whereby each t-shirt has a QR code attached explaining how to send your worn out shirt back so it can be remade into something else. On top of this, when you send the shirt back they give you store credit to use on a new item.
Choose Zero Tee because:
The designs are trendy
Items are made from sustainable materials
They plant a tree for every item sold
They've donated 5% of their profits to food banks during the COVID crisis
15. EVERLANE
Everlane offer a huge variety of affordable ethical clothing options for men and women and offer a degree of transparency that is unmatched.
They are perfectly aware of what they need to do to become 100% sustainable and have already proved their commitment to this across their whole supply chain rather than just in their sustainable collection by making changes such as heavily reducing their use of virgin plastic.
Their denim factory is particularly impressive as it has achieved a 98% recycling rate of water and has 80% lower CO2 emissions than your typical factory.
Choose Everlane because:
They have one of the most comprehensive list of items available
Their transparency is admirable
The clothing they make is designed to last years
16. FOR ECO MEN'S SUITS: MOSS BROS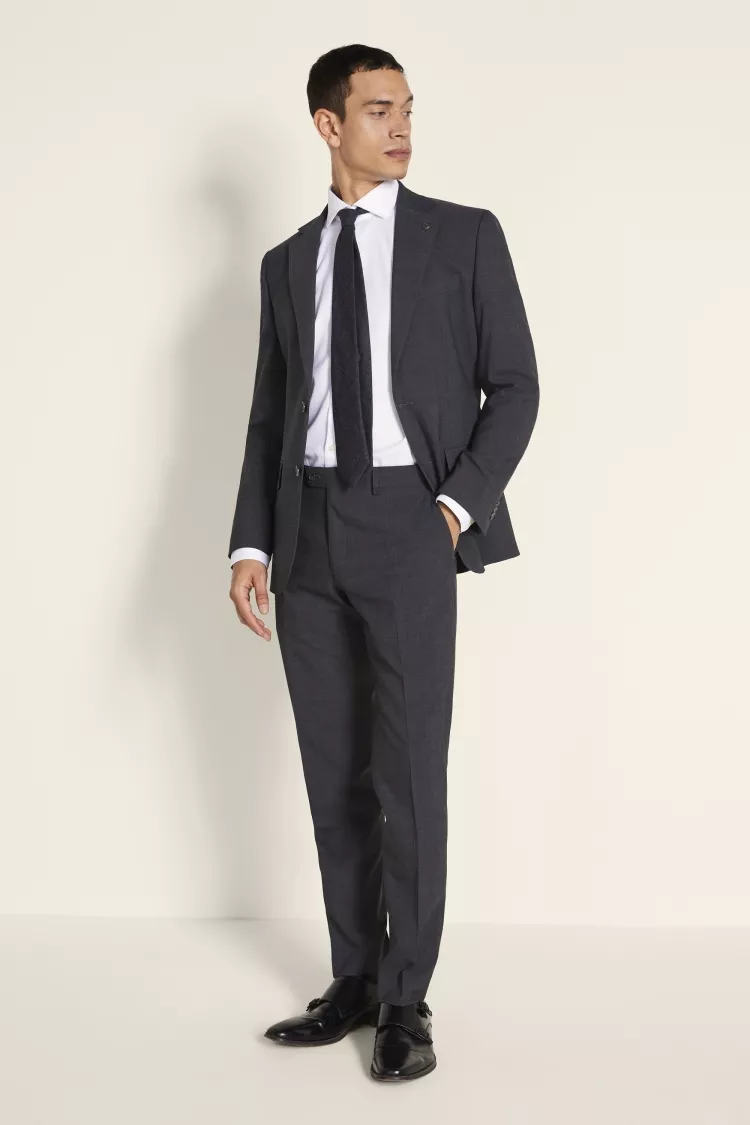 Finding men's suits in the UK that are sustainable isn't easily done. Our pick here is Moss Bros who are specialists in men's formal wear.
As they attempt to move towards a sustainable future, they've recently brought out an eco suits collection that is made from recycled polyesters and fabrics that have a low environmental impact.
The suits are very stylish and come in a variety of inclusive sizes.
Choose Moss Bros because:
They have a nice collection of eco men's suits
The suits are made up from 45 plastic bottles
They're committed to moving towards a closed loop manufacturing process
17. PATAGONIA
Patagonia have had a huge influence in the sustainable clothing market and have even inspired some of the other brands on this list.
They have a variety of outdoor clothing available for men and women including recycled raincoats, organic cotton t-shirts and stylish jeans.
100% of their electricity needs are met using renewable energy, their cotton is grown organically and they ensure their products are produced under safe, fair, legal and humane working conditions.
Choose Patagonia because:
They take items like fishing nets and plastic bottles and turn them into clothes
Their electricity needs are met with renewable energy
Their clothing is durable and will last a long time
They voluntarily give 1% of their profits to environmental causes
18. ARTFUL SONDER
Artful Sonder is an ethical brand based in the north that has a strong focus on sustainability. Their clothing is 100% organic cotton, produced in factories that utilise carbon neutral manufacturing and for every item bought they plant 2 trees via their partner TreeSisters!
Their unique tees and totes are all GOTS certified and PETA approved, as well as the materials being ethically sourced. The people involved in manufacturing are also guaranteed a fair living wage and suitable working conditions under the Fair Wear Foundation.
This independent brand has recently introduced a vintage section to their site to save clothes that would otherwise be sent to landfill. Artful Sonder is a new brand but already they've been recognised in the Guardian's My Green Pod magazine for their sustainable practices and artistic designs.
Choose Artful Sonder because:
100% GOTS certified organic cotton.
2 trees planted with every purchase.
Plastic free packaging.
Unique designs printed with water based inks.
New Vintage collection to save clothing from landfills.
19. EILEEN FISHER
Eileen Fisher are an American clothing brand who stock their products in the UK in stores such as John Lewis. They focus on simplicity, using sustainable materials and using non-traditional models within their advertisements.
All of Eileen Fisher's clothing is made with a responsible lifecycle in mind meaning that when you're finished with them, they can be returned and remade into something new – regardless of the condition.
They have all the clothing types typically associated with a large fashion retailer but without the ethical concerns.
Choose Eileen Fisher because:
They go above and beyond the meet their sustainability goals
They recognise the importance of having a closed loop manufacturing process
The variety of clothing on offer matches that of large retailers
20. REFORMATION
Reformation, like Eileen Fisher have a large variety of eco friendly clothing available to UK consumers including anything from everyday essentials to dresses and even bridal outfits.
We're particularly impressed with their goals to move from being carbon neutral to climate positive by 2025 by driving climate action throughout their supply chain.
Choose Reformation because:
They've been carbon neutral since 2015 and are still doing more
They have a variety of clothes available
They preach inclusivity
21. GIRLFRIEND COLLECTIVE
Girlfriend Collective are all about creating sustainable, luxurious activewear for women at a reasonable price.
Their luxury leggings are all created from 25 recycled plastic water bottles and as they put it: "Old water bottles and fishing nets look better on you than they do clogging landfills and polluting oceans".
We couldn't agree more.
Choose Girlfriend Collective because:
They take post consumerism waste and turn it into something elegant
The activewear is plain, stylish with a hint of femininity
Their employees are paid 125% of the local minimum wage
Their sizes range from XXS to XXXL
22. MASSON AND GREEN
Masson and Green are a great choice for eco friendly men's clothing as they combine sustainability with items that are still fashionable and desirable.
Their range focuses on polo shirts, long sleeve polo shirts and ethical hoodies and are made using only organic cotton and recycled raw materials.
Choose Masson and Green because:
They offer stylish, sustainable clothing
The facilities used to create their clothing are WRAP accredited
Their clothing is reasonably priced
SMALL BUSINESSES WORTH A LOOK
There are also a few smaller businesses that have sustainability at the heart of their budding fashion brand. While they might not have the greatest presence and inventory, they're still worth a look. These include:
22. Bold Dino
23. Sunny Side Clothing UK
24. Trashion Factory